5erWest 2018: July 20th-2th – Portland, OR
Registration and attendance for 5erWest is $10 – a bargain!
Registration Will Be Open Soon – Check Back!
Subscribe to the 5erWest Blog.
Follow @5erWest on Instagram.
Join the 5erWest Facebook Group.
Northwest BMW Club invites you to attend 5erWest, the northwest's premier showcase of the BMW 5 series.  5erWest is a celebration of the fine lineage of the BMW 5-Series.
Although 5erWest spotlights the 5 series, it is a gathering of ALL BMW enthusiasts. We welcome other BMW makes to attend and would like to give special encouragement to owners of other vintage "roundels" to show up in force! Over the last couple of years, we had a nice showing of 3-series cars, 6-series, and even a few Porsches.
T-SHIRTS

As with each year, we will have t-shirts available at the event.  This year's design will be an original design as in years past and we are looking forward to sharing it with you. Pricing and availability will be available soon as well!!
EVENT DETAILS
Friday –  6pm Meet / 7pm Eat
— Northwest BMW Club invites you to a 5erWest Prefunk meet-n-eat.   Since some folks are busy on Saturday, we like to give everybody a chance to come hang out with fellow 5er enthusiasts and get an early start on the weekend. Location to TBA.
---
Saturday – 8am – 11am
— 5erWash. Meet up at 8:00am Saturday morning to knock some of that grime down before car show.
Scrubbies Car Wash – 16665 SE McLoughlin Blvd, Milwaukie (Behind Precision Auto Service)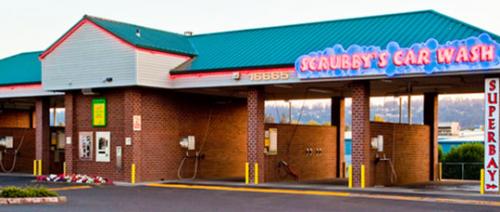 ---
Saturday – 11am – 4pm
 — Our 6th Annual 5erWest main event is our "show-n-shine."  That's a loose term and we don't require "pristine" garage queens.  This is an enthusiasts' event, so bring what you drive, love, baby, thrash… whatever. This is entirely up to you.  ALL BMW MODELS ARE WELCOME!
Location TBA.
— Parking will begin at 10:00 for those that wish to come early. We will be grouping cars by chassis again, so your patience during this process is appreciated.  If you show up late…. no worries!  We'll get you in somewhere. Please be patient at the entrance. If you did not pre-register, that's ok. Give them your info and $10 at this time for entry.
— Lunch: Vendor TBA.  Being a daytime event in July, it's important to stay hydrated, so bring as much to drink as you want, but please remember NO OPEN ALCOHOL.
— Prize raffle drawings will take place after lunch. Raffle tickets can be purchased for just $1ea. 5erWest attendees can choose to enter to win several of our prizes donated from our wonderful sponsors. Raffle ticket sales are how we fund this event, so please get yourself a fist-full. Please be mindful of others and refrain from entering to win items that you cannot personally use.
— 5erWest Best of Chassis awards will be presented to the winners after our raffle drawing and after all vote submissions have been counted. One winner from each eligible chassis** will be presented with an official 5erWest plaque. This year, the following 5-series platforms can receive a Best-of-Chassis award:
E12, E28, E34, E39, E60/61
As a continuing tradition, previous 5erWest winning cars will not be eligible to promote fairness among this community. Previous winners CAN win with a DIFFERENT car.
We will also have our special Best-In-Show award which can be awarded to whichever 5er is voted as the Best-In-Show.
*** IF YOUR CAR HAS WON IN THE PAST, PLEASE WRITE " (YEAR) WINNER" ON YOUR DASH DISPLAY CARD ****
**CHASSIS ELIGIBILITY WILL BE DETERMINED BY REGISTRATION RESULTS.
---
Sunday Morning
The 5erDrive is an organized group drive featuring some of the many great scenic routes in the Pacific Northwest.  The 5erDrive is an open event, so you're welcome to attend even if you could not join us for the Saturday events. Again, it is open to any flavor of BMW, not limited to just the 5 series chassis. 
5erDrive Details: CLICK HERE FOR MAP, ITINERARY, and ROUTE
The Route is subject to change, and likely will be, so look for further updates.
There is a liability waiver that is required for you to participate in the 5erDrive. It was attached to the registration email. If you did not get this attachment or email, the waiver can be found HERE.  Print it out, read it, sign it, bring it with you. We will also have a few paper copies available on site. We will be collecting these before we leave.  
Also, please remember that this is a casual drive on a public road. It is not the place for displays of power and racing. 5erWest does not condone speeding or reckless driving. All local laws are expected to be followed. Please be sure your car is in reliable working order before participating in the 5erDrive.
---
How to find 5erWest
We'll let you know when we know!!
We will see you there!
---
Past 5erWest Class and Overall Winners